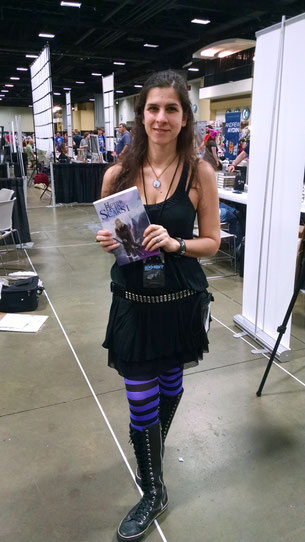 Day Two: Learning Hyperbola
Saturday was the day in very many ways. It was longer by hours, but went so much faster. There were periods where no one stopped to look at anything on our table, but then suddenly we would have several turning back to point at one of Vanessa's wolf prints, which then gave us the opportunity to talk about the book.
We learned quickly what worked and what didn't, and got the rhythm down between us.
"It's an epic fantasy with a strong female lead... take a look at the back and see what you think..."
That was the best lead in. Simple, and it hit the two biggest factors that people will like (or not) in the novels. Cause... they could feel how heavy it was when they picked it up.
"Yeah, it's 600 pages," and we'd point to the flyer. "I started publishing it as individual ebook novellas, then put them all together into a single paperback. I didn't know how big it would actually be until I opened the box. Waaaay heavier than the Kindle versions."
(And later I'd find out how much it would cost me to ship a single copy!)
Vanessa turned out to be a great salesperson. When the art drew them in, she'd explain the legend of the White Wolf Woman from the novel, and how it inspired the paintings for some of the covers and other attached artwork.
The art often drew them in first, and then I'd explain, "Vanessa made such a great cover. I just did the 600 pages of filler in the middle to give her some room on the book spine."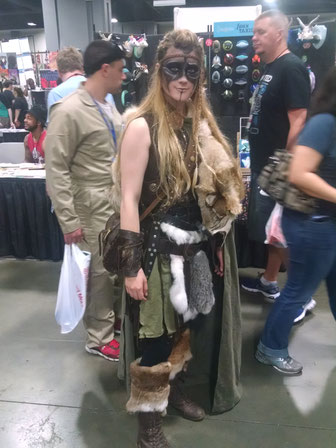 Lots of obstacles on Saturday. The WiFi connection was terrible, so we had to take cash for nearly every transaction, though Jackson in the next booth was cool enough to let us use his once or twice.
Sometimes the crowds were thick enough that people passing couldn't even see our displays, so Vanessa started taking a LOT more pictures of the cosplayers, which were, well, probably half the people passing by. I'll put a couple of pictures here, but Vanessa made a great video compilation of them I'll put in Part 3.
(Yes, the one on the right could pretty much pass for Adria. --->)
We really had an amazing time, and everyone we interacted with was very positive in every way.
We sold books. Lots more books. Lowered expectations on day one gradually rose as the stack lowered.
"Can you sign it?"
"Um... sure." Crap, I thought. We forgot to sign them yesterday.
I made a little saying for the readers, and... Vanessa drew cartoons of them on the title page. She wins again.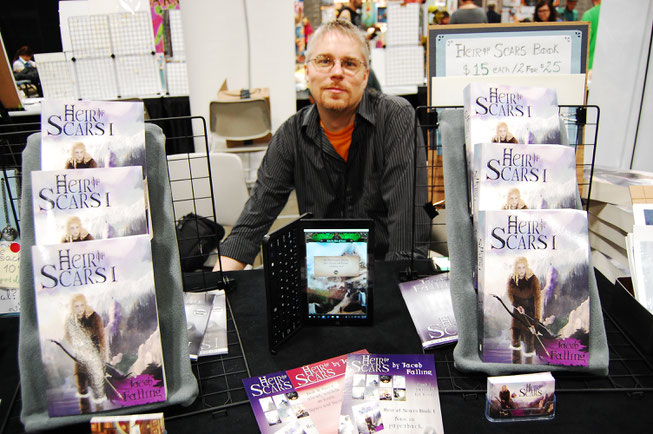 I developed an app specifically for the event, but it didn't quite work out. You can see it above, just under my goatee.
The idea is that on the first page you can pick an Aesidhe name (that's the culture that Adria joins in the novels), a tribe, and a spirit animal. In the second page, it builds a little character sheet for you, and if you enter your email address, I'll send a little story with that character as the basis.
But... the first person who tried it didn't really get what was going on, and the buttons were a bit too small. I'll revise it for later shows and put it on the site once it's ready. So... close, but not quite enough.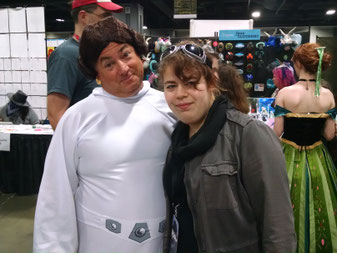 <--And OMG Carrie Fisher stopped by!
Well.
Actually, this guy was obviously about the coolest dad in the world, and we really enjoyed speaking with him and his daughter(s).
There were so many good conversations, and I wish we had names and pictured for them all. If you were at our booth and feel inclined, please let us know and we'll connect...
By the end of Saturday, the books were gone, and a fair number of prints and bookmarks. We would have only seven copies left of our (lowered expectations) initial order for Sunday...
...continuing...